ABOUT US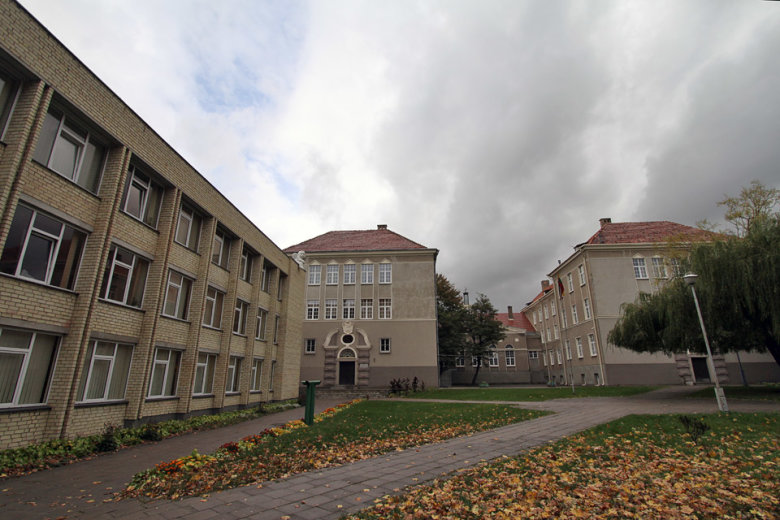 Vilnius Antakalnis gymnasium was built in 1930 on the left side of the Neris' valley in Antakalnis – one of the oldest and most beautiful Lithuanian districts here in Vilnius. Our school is easily distinguished from others by its marvelous pre-WWI architecture as well as its spaciousness. The roof of the building is decorated with angels' sculptures. The gymnasium is close to the Church of Jesus the Redeemer with the St.John's theologian monastery, and the Sapiegų park with St. Peter and Paul's church nearby.
Antakalnis gymnasium is open to society, based on democratic human principles and values. It is a tight community of students, their parents and teachers, which ensures safety, positive psychological microclimate, high standards of education and professional improvement of the teachers. The gymnasium guarantees self-expression of every student, freedom of thinking, solidarity, tolerance and promotes patriotism.
Since September 1st, 2021 our gymnasium has had 631 students that constitute 23 classes. Our staff of 50 includes teachers, after-school curriculum professionals, a psychologist, a social pedagogue and a librarian. The personnel of 22 workers take care of tidiness and maintenance of our buildings and premises.
Our students are encouraged to participate in various regional and international contests, olympiads and often they become prize winners. The first-formers and third- formers, supervised by their teachers, prepare yearly projects and in the first week of June present them to the school community.
Vilnius Antakalnis gymnasium fosters old traditions and also keeps creating new ones. Every year our community celebrates national holidays, September 1, we organize A Hundred Day, Last Bell and Presenting School-leaving Certificates Day. Our students and teachers never forget to celebrate the international Tolerance Day and the Earth day. Also, our scholars participate in the extra-curriculum activities after school. We have our own soccer, table tennis, basketball teams, musical studios, photography art and trivia clubs.
Before Christmas the school community gathers for Gingerbread day. All students and teachers look forward to this day when we decorate our classrooms, hallways and at the end of the Advent all classes have parties full of delicious food, fun bonding activities and the holiday spirit.
In 48 years (1973-2021) our school has successfully brought up 41 graduate classes. 3965 students received high school diplomas, 193 of which with honors, 18 gold and 28 silver medals have been awarded for their hard work and contributions to school. Our gymnasium is proud to say that many of our talented alumni are working in science, politics and art.
HISTORY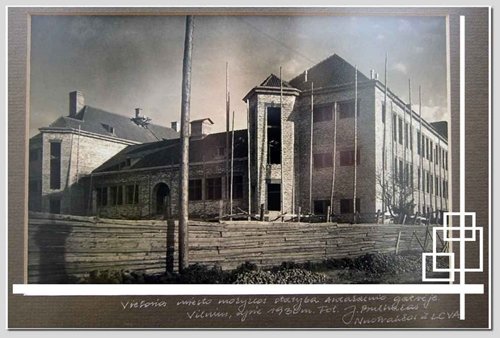 The school building, designed by Stefan Narębski, was built in 1929-1930 and was originally called Bendrų pradinių mokyklų rūmai (Joint House of Primary Schools). It consisted of two main deparments. The first one was an all-boys school, named after general Lucjan Żeligowski, the other one was Władysław Syrokomla's school for girls. During World War II, the school building was temporarily turned into a hospital. In 1944, the building started functioning as a school again and was called Vilnius Secondary School No. 5, lasting up until 1971. In 1972 the Vilnius Secondary School No. 22's elementary students settled down in the building.
In 1973, the first eight-year school started functioning in the building, named Vilnius Secondary School No. 18 in 1978. The third building was added in 1983. During the same year, the school started teaching its students strenghtened level of English. In 1990, another - separate - building was passed over to the school. In 1996 the school was renamed to Vilnius Antakalnis Secondary School. On May 2nd, 2012 it was decided by the Vilnius City Municipality to reorganise the school into Vilnius Antakalnis Gymnasium and Vilnius Antakalnis Progymnasium.
The school's headmasters and headmistresses so far have been: Joana Sidaugienė (1973-1980), Anatolijus Dziska (1980-1983), Emilijus Šimulionis (1983-1986), Regina Blotnienė (1986-1988), Arūnas Uleckas (1988-1989), Vanda Mažeikienė (1989-1998), Vita Kirkilienė (1998-2021). From 2022, the person in charge of Vilnius Antakalnis Gymnasium is Anželika Keršinskienė.
OUR MISSION
Our mission is to raise active, patriotic and tolerant youth. This will prepare them for life after graduation. We also strongly believe in a good quality of foreign language education – English being mandatory for all students. French, Russian and German language classes are mainly optional, but strongly encouraged. We believe that students have a right to a bright, tolerant, inspiring and safe environment for learning and creating, as well as using the opportunity to be active and join Students' council.
OUR VISION
Vilnius Antakalnis Gymnasium is an open-minded, democratically organised community of students, their parents and teachers, based on universal values and the principles of humanism. The school guarantees the safety of its students and employees, friendly psychological environment, high-quality education as well as high qualifications of our teachers. Our community encourages our students to keep studying and improving for the rest of their lives by promoting solidarity, tolerance and being a good citizen and ensures their rights of self-expression and freedom of thought.
Pamokų laikas
Iki rudens atostogų liko: